Electric Vehicle Routing
EVR is a route optimisation and scheduling software that allows fleets to route their vehicles that has been optimised for electric vehicles. EVR considers numerous factors that can affect a vehicle range, allowing accurate prediction of battery consumption.

Shift from combustible engines to Electric with EVR. Use Our Web App or our API.
Enabling fleets to route plan and forecast EV's energy consumption. The more EVs that come to market and the more journeys that get planned by EVR the more accurate the results will be.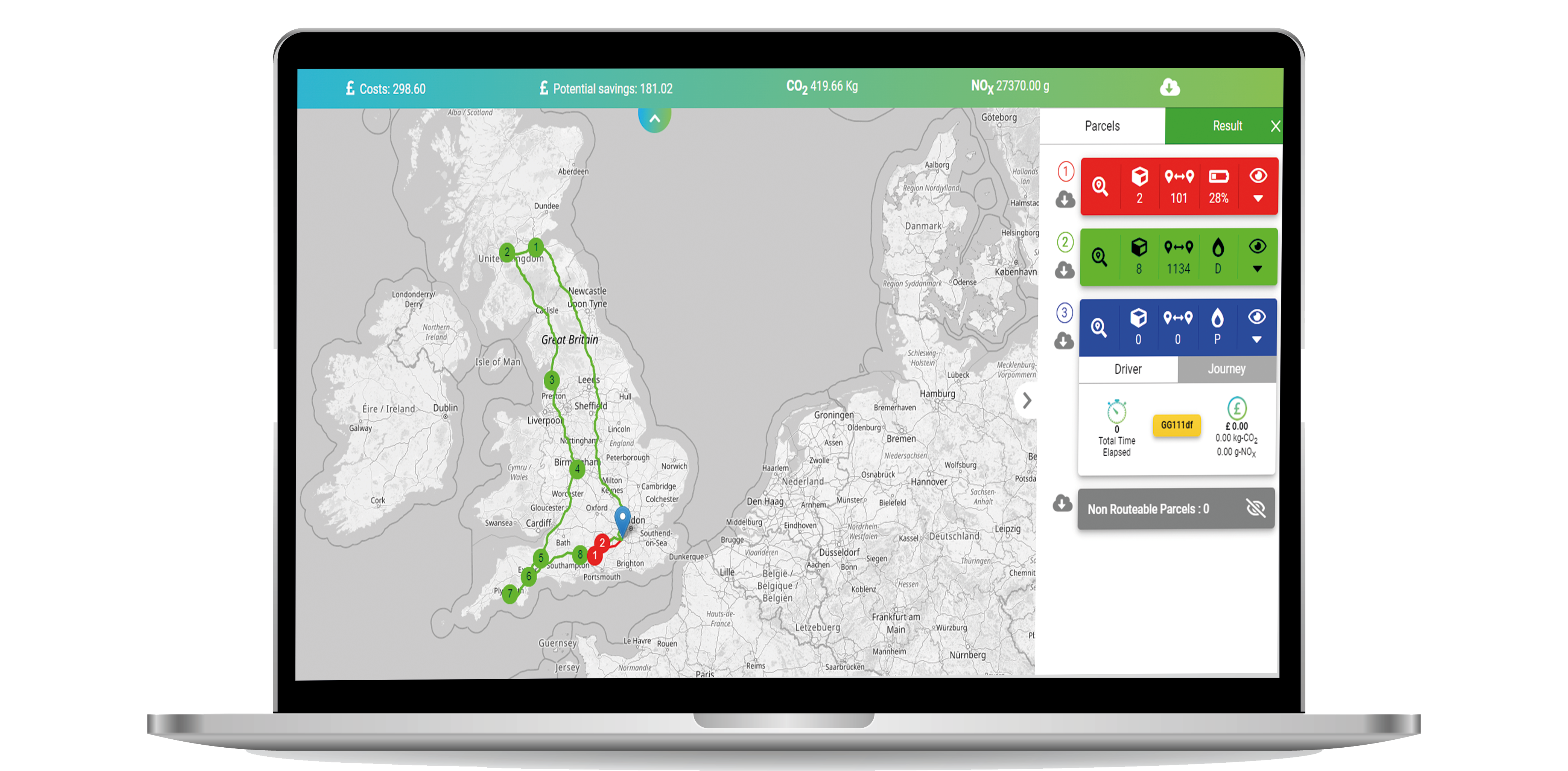 Handle fleets via our intuitive web or use our API integration custom to your brand.
Don't lose power on your way to deliver, use our optimised routing to ensure enough charge.
Get ahead of sensitive emission deadlines. Adopt a sustainable action plan for your deliveries.
AI technology that predicts different conditions such as weather or road gradient to accurately route your delivery.
Limit Range Anxiety by Taking Into Account The Full Battery Impacting Factors
EVR calculates weather, wind speed, weight, battery charge and orders jobs to save you the most battery.
Easy Navigation Through App or API Integration
Improve the EV experience by loading in your vehicle details, drop-offs to accurately sort jobs.
Starting from a free beginner subscription, there is a range of subscriptions for every size of fleet.
Intelligent Routing
Our EV routing makes it easy to plan routes with more intelligence. EVR knows the factors that impact battery life, including; weather, wind speed, storage, weight, and road gradients. These metrics get added to the equation that predicts the most intelligent route for getting to different location pins.
Designed for Fleets to Switch to Electric
This platform is designed to help fleets switch from combustible engines to electric. Drivers have the ability to utilise all engine types, with EVR generating a financial and emission saving.
Factors that influence battery performance
Keen to Learn About EVR?
Get In Touch.
Plans for Every Sized Fleet
No Download Needed, Login Web App
⦿ EVR allows a user to load up jobs from a CSV file, it loads in the wrong location, no problem you can place the pin on the map where it needs to be
⦿ A job could be a parcel delivery or a maintenance job, these can be specified with job time allocated
⦿ Select who is working, customise drivers with working hours and how they drive
⦿ Choose the vehicle, EVR supports mixed fleets so diesel, petrol, electric and hybrid - we have got you covered
⦿ Set off the calculation, EVR will ensure the right vehicle is used and that you have enough battery to get home
⦿ Send that route to the user's mobile phone, or download it as a CSV file- EVR monitors and helps you build a business case to switch to EV showing emission and cost savings to the end user
Your fleet runs on data
We have seen a real difference in our market, initially, we saw interest in small fleets where organisations are looking to switch to electric vehicles, but recently it has been used by companies to trial routes for their EVs.
Reducing range anxiety on your fleet delivery.
Download EVR Factsheet
1mb